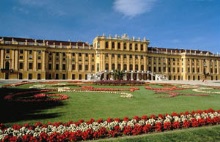 Meeting Point: Reed Messe Vienna
Duration: 3 p.m. - 6 p.m.
Price: € 45,-
To provide you with a first impression of the city, we start our tour at Ringstrasse. This boulevard with an approximate length of 4 km was created in the course of the city's first expansion in the middle of the 19th century on the area of the former Glacis. We will see buildings like the Museum of Fine Arts, the Museum of Natural History, the City Hall, the Burgtheater, the Parliament, the University, and many more. The highlight of our excursion is a tour through Schönbrunn Palace, the summer residence of the former Imperial House of Austria.
Price per person incl. bus ride, guide and admission fee
Meeting Point: Reed Messe Vienna
Duration: 3 p.m. - 6.30 p.m.
Price: € 40,-
This tour first takes you to Grinzing, a well-known Heurigen town, and then continues via the Höhenstrasse road to the Kahlenberg. From this vantage point you have a view over the whole city and its surroundings. The excursion then leads to Klosterneuburg, the first Babenberger residence in the Vienna area. The most impressive place of interest in the vicinity is the Augustinian Monastery, which was founded even before 1108. The Monastery's focal point is the renowned Verdun Altar, dated 1181, a unique work of art that is made of enamel. From Klosterneuburg you then return to Vienna.
Price per person incl. bus ride, guide and admission fee